Slow-Cooker Creamy Chicken Pot Pie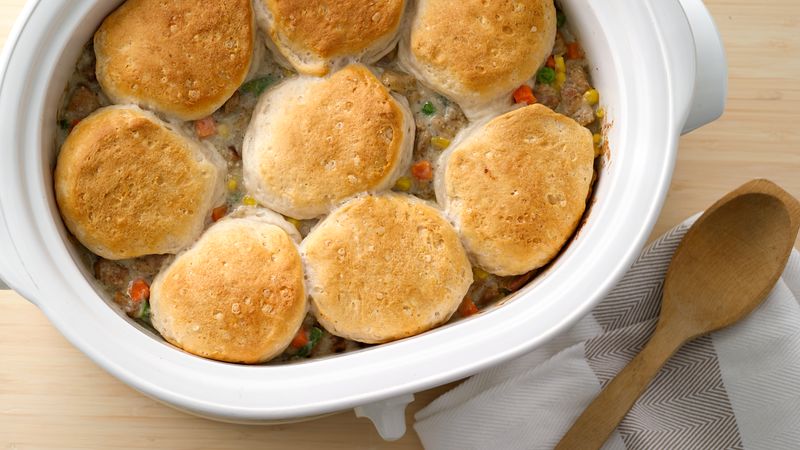 Ingredients
2 1/2
lb boneless skinless chicken thighs, cut into 1-inch pieces
1
cup heavy whipping cream
1/4
cup all-purpose flour
1
package (0.87 oz) chicken gravy mix
1
tablespoon poultry seasoning
1
bag (12 oz) frozen mixed vegetables, thawed
1
can (16.3 oz) Pillsbury™ Grands!™ refrigerated buttermilk biscuits
Steps
Spray 5-quart oval slow cooker with cooking spray. Place chicken in slow cooker.
In small bowl, mix whipping cream, flour, gravy mix, poultry seasoning and salt; pour over chicken. Cover; cook on Low heat setting 3 to 4 hours or until chicken is no longer pink in center.
Heat oven to 350°F. Stir thawed mixed vegetables into slow cooker. Cover and cook 15 to 20 minutes or until hot. Remove slow cooker insert.
Separate dough into 8 biscuits. Top mixture in slow cooker with biscuits. Bake uncovered 35 to 40 minutes or until biscuits ar