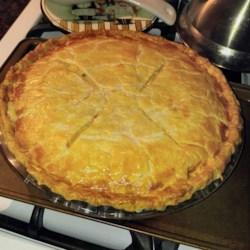 Chicken or Turkey Pot Pie
 You can use chicken in place of the turkey, if desired.
Ingredients
2 prepared pie crusts
2 cups coarsely chopped leftover turkey
1 (16 ounce) package frozen vegetable blend, thawed
1 (10.75 ounce) can condensed cream of chicken soup
1/2 cup half and half, or to taste
salt and ground black pepper to taste
Directions
Preheat oven to 350 degrees F (175 degrees C). Line a pie plate with 1 prepared pie crust.
Stir turkey, vegetables, chicken soup, half-and-half, salt, and black pepper together in a bowl. Pour into prepared pie plate and top with remaining pie crust. Slice 4 slits in the top of the crust to vent.
Bake in the preheated oven until heated through and crust is golden, 40 to 45 minutes.