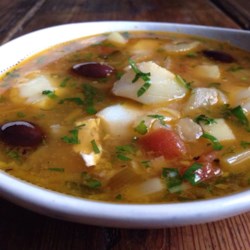 Mike's Bait Shop's Turtle Stew
Recipe By:
Mike's Bait & Tackle
"Southern turtle stew made with potatoes and onions. Much like a clam chowder. Good, hearty and filling. Turkey may be used in place of chicken."
Ingredients
10 pounds turtle meat, without bones
8 pounds chicken meat with bones
8 pounds boneless pork roast
10 large onions, chopped
salt and pepper to taste
6 pounds potatoes – peeled and cubed
2 cups butter
2 quarts half-and-half cream
2 gallons milk
Directions
Place the turtle, chicken and pork meat into separate pots with enough water to cover the meat. Bring each one to a boil, and cook until tender. Discard the water from the turtle and pork, but save the chicken stock. Debone all of the meat, tear or cut into bite-size pieces, and set aside.
In a very large stockpot, combine the three meats, onion and reserved chicken stock. Bring to a boil, and cook until the onions are tender, about 45 minutes. Season with salt and pepper to taste. Potatoes can be prepared during this time.
Add the potatoes and butter to the stockpot, and cook for about 30 minutes, or until the potatoes are not quite cooked through. Reduce heat to low, and let the soup simmer down. Stir in the half and half cream and milk. Bring the soup to a simmer, and cook for about 15 minutes. Be careful not to curdle the dairy by getting it too hot. Serve soup hot with crackers.