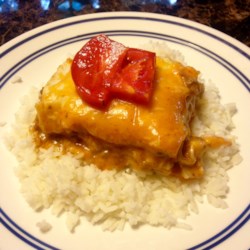 Slow Cooker Enchiladas
"An old Mexican classic with a new twist. Anytime we have a potluck, I am asked to bring these. Can be made with chicken or beef."
Ingredients
1 pound lean ground beef
10 (6 inch) corn tortillas, quartered
1 (1 ounce) package taco seasoning mix
1 1/4 cups water
1 (12 ounce) jar chunky salsa
1 (10.75 ounce) can condensed cream of mushroom soup
1 (10.75 ounce) can condensed cream of chicken soup
4 cups shredded Mexican cheese blend
Directions
Crumble the ground beef into a skillet over medium-high heat. Cook and stir until evenly browned. Add taco seasoning and water; simmer for 15 minutes over low heat.
In a medium bowl, stir together the salsa, cream of mushroom soup and cream of chicken soup. Mix in most of the cheese, reserving 3/4 cup for later.
Place a layer of tortillas covering the bottom of a slow cooker. Scoop a layer of the ground beef over that, and then spoon a layer of the cheese mixture. Repeat the layers until you run out of stuff, ending with a layer of tortillas on the top. Top with remaining cheese.
Cover, and cook on High for 45 minutes to 1 hour.