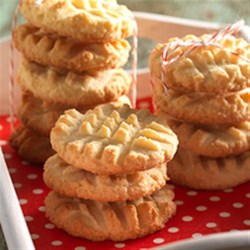 Gluten-Free Coconut Flour Shortbread Cookies
Recipe By:
King Arthur Flour
"These buttery-rich, crisp shortbread cookies are a great wheat-free alternative to classic shortbread. Without the additional coconut flavor, they have the faint aroma and taste of coconut thanks to coconut flour. With the flavor, you'll have a cookie with robust coconut taste, perfect for dunking into a pot of chocolate fondue or glass of milk."
Ingredients
1/4 cup King Arthur Coconut Flour
1/4 cup King Arthur Gluten-Free Flour
1/4 cup sugar
1/4 cup softened unsalted butter
1/4 teaspoon salt
1 large egg
1/8 teaspoon coconut flavoring, for stronger flavor (optional)
Directions
Preheat the oven to 400 degrees F. Lightly grease a baking sheet, or line it with parchment.
Mix all the ingredients, by hand or mixer, until a well-blended, cohesive dough forms; this will take about 2 minutes at medium-low speed in a stand mixer.
Drop the cookie dough by teaspoonfuls onto the prepared baking sheet (a teaspoon cookie scoop works well here), leaving 1 inch between them; these cookies won't spread much when they bake.
Use a fork to flatten each cookie to about 1/4 inch thick, making a cross-hatch design.
Bake the cookies for 8 to 12 minutes, until just browned on the bottom. Allow the cookies to cool completely on the baking sheet.