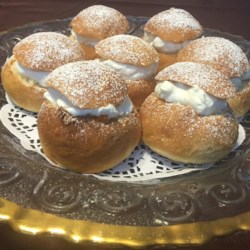 Sunshine Semlor
"This is recipe for an authentic Swedish semla made by my friend Louise Vernerstrom from Falun, Sweden. Semlor are pastries that were originally exclusively eaten on Fat Tuesday. However, they are so good that that tradition has changed drastically. Many serve it all year round."
Ingredients
Rolls:
5 cups all-purpose flour
1/2 cup white sugar
4 teaspoons baking powder
1/2 teaspoon salt
1 1/2 cups almond milk (heated to 82 degrees F (28 degrees C))
2/3 cup butter, melted
1 (.25 ounce) package active dry yeast
2 eggs
1 teaspoon ground cardamom
Almond Paste Filling:
1/2 cup milk
5 ounces almond paste, grated
Topping:
2 cups heavy whipping cream
2 tablespoons white sugar
2 tablespoons confectioners' sugar, or to taste
Directions
Mix flour, 1/2 cup sugar, baking powder, and salt together in a bowl.
Combine warm milk and melted butter in a bowl. Add yeast and stir until completely dissolved. Mix in eggs and cardamom. Stir in flour mixture until thoroughly combined. Cover with a clean towel and let rise for 1 hour.
Punch dough down gently and divide into 20 pieces; shape into balls. Arrange balls on baking sheets lined with parchment paper. Cover with a towel and let rise for about 45 minutes.
Preheat the oven to 375 degrees F (190 degrees C).
Bake until golden brown, about 14 minutes. Transfer to a wire rack to cool, about 20 minutes.
Cut 1/2 inch off the top of each bun to make a 'lid.' Scoop out the core of the bun gently with a fork. Repeat with remaining buns, setting tops aside and placing cores in a large bowl.
Pour some milk over the cores to moisten. Mix in almond paste until smooth. Continue adding small amounts of milk until filling resembles a thick pudding. Spoon almond paste filling into the center of the buns.
Combine heavy cream and 2 tablespoons sugar in a large bowl. Beat with an electric mixer until stiff peaks form.
Top buns generously with whipped cream and place 'lids' on top. Use a sifter to dust tops with confectioners' sugar.