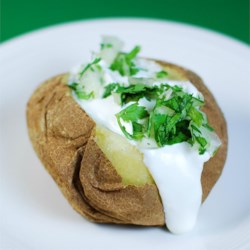 Slow Cooker Baked Potatoes
A super easy way to bake potatoes without heating up the kitchen.
Ingredients
4 baking potatoes, well scrubbed
1 tablespoon extra virgin olive oil
kosher salt to taste
4 sheets aluminum foil
Directions
Prick the potatoes with a fork several times, then rub potatoes with olive oil, sprinkle with salt, and wrap tightly in foil. Place the potatoes into a slow cooker, cover, and cook on High for 4 1/2 to 5 hours, or on Low for 7 1/2 to 8 hours until tender.