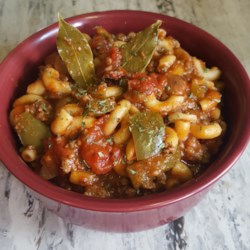 Country Goulash
Recipe By:
Kelly Nagy Cramer
"My grandfather came from Hungary when he was three. My grandmother made this recipe for a taste of home for him. It is Americanized, but still delicious. He added sour cream to his, while we kids we ate it plain. The consistency grandma made was like a casserole or stew rather than a soup."
Ingredients
2 pounds lean ground beef
1 large yellow onion, chopped
3 cloves garlic, chopped
3 tablespoons paprika, or to taste
2 teaspoons ground black pepper, or to taste
2 teaspoons seasoned salt, or to taste
2 (15 ounce) cans tomato sauce
1 (8 ounce) can tomato paste
1 cup water, or as desired
2 cups uncooked elbow macaroni
Directions
Heat a large skillet over medium-high heat. Cook and stir beef, onion, and garlic in the hot skillet until browned and crumbly, 5 to 7 minutes.
Season beef with paprika, black pepper, and seasoned salt. Stir tomato sauce and tomato paste into the beef mixture until smooth. Pour water over the beef; add macaroni and stir.
Bring the liquid to a boil, reduce heat to medium-low, and simmer mixture, adding water as needed to maintain your desired consistency, until the macaroni is tender yet firm to the bit, about 20 minutes. Adjust seasoning before serving.