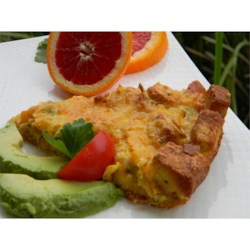 Southwest Skillet Bread
"A very easy recipe that makes a unique breakfast! Can also be served as a side dish or an appetizer."
Ingredients
3 eggs, beaten
2 cups shredded Cheddar cheese
1 (8 ounce) can cream-style corn
2 pickled jalapeno peppers, chopped
1 (5.5 ounce) package Ranch flavored croutons
Directions
Preheat the oven to 375 degrees F (190 degrees C). Grease a 9 inch cast-iron skillet, and place it in the oven while it preheats.
In a medium bowl, mix together the eggs, cheese, corn and jalapeno peppers. Stir in the croutons until well coated. Pour into the prepared pan.
Bake for 30 minutes in the preheated oven, or until the top is golden brown. Cut in to wedges or squares to serve.