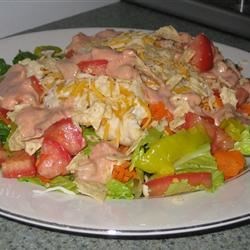 Santa Fe Chicken Salad
Ingredients
4 skinless, boneless chicken breasts
1/2 cup mayonnaise
1/2 cup Italian-style salad dressing
1 head iceberg lettuce
1 head romaine lettuce, rinsed and dried
2 bunches green onions, chopped
1 large tomato, chopped
1 1/2 cups shredded Cheddar and Monterey cheese blend
5 (6 inch) flour tortillas
1/2 cup ranch-style salad dressing
1/2 cup salsa
Directions
In a gallon size plastic bag or 9×9 baking dish, mix together the mayonnaise and Italian dressing. Place chicken in mixture and marinate overnight in the refrigerator.
Chop, wash, and dry the iceberg and romaine lettuce. Mix and divide among four dinner-size plates. Divide and place the tomato and green onions among the plates. Sprinkle the top of each salad with shredded cheese.
Remove chicken from marinade and grill or broil until cooked. While chicken is cooking, cut tortillas into three thick strips and cut each strip into 'matchsticks'. Place on a cookie sheet and put under broiler until golden brown. Let cool. Cut the chicken into strips and divide among plates. Top with tortilla 'crispies'.
To prepare the dressing, combine the salsa and ranch dressing in a blender and mix until smooth. Pour over each salad.