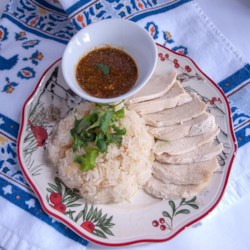 Khao Man Gai Thai Chicken and Rice (Healthy Version)
Recipe By:
CookingwithMomTomTom
"Khao man gai or khao mun gai, literally meaning oily rice [with] chicken, is one of the most popular Thai dishes; it can be found everywhere in Thailand from streetfood stalls to restaurants. It is originally from Hainan, China. In Thailand, khao man gai is served with cucumbers, chicken blood tofu, coriander, and a bowl of soup. The heart of khao man gai is the sauce! This recipe is a healthy version of khao man gai; I used less oil and chicken breasts instead of the parts of chicken with fat and skin. Enjoy!"
Ingredients
5 skinless, boneless chicken breasts
Rice:
3 cups uncooked jasmine rice
3 tablespoons vegetable oil
1/2 cup sliced ginger
2 tablespoons crushed garlic
1 tablespoon white sugar
1/4 teaspoon salt
1/2 cup water, or as needed
5 pandan leaves
3 cups chicken stock
Sauce:
1 cup chopped ginger
1/2 cup coarsely chopped garlic
15 Thai bird chile peppers
6 tablespoons white sugar
1/4 cup dark soy sauce
1/4 cup soy sauce
1/4 cup lime juice
1/4 cup distilled white vinegar
1/4 cup salted soybean paste
10 sprigs fresh cilantro
1 tablespoon chicken bouillon granules (optional)
1 teaspoon salt
Directions
Place chicken breasts in a large pot and cover with water; bring to a boil. Reduce heat to medium-low and simmer until no longer pink in the center, about 20 minutes. Drain and cool until easily handled.
Pour rice into a strainer. Rinse with cold water and drain. Repeat once more.
Heat oil in a large saucepan over high heat. Add 1/2 cup sliced ginger and 2 tablespoons crushed garlic; saute until fragrant, 1 to 2 minutes. Stir in rice; reduce heat to medium. Season rice with 1 tablespoon sugar and 1/4 teaspoon salt. Cook and stir until rice turns white, adding water to prevent it from burning, about 10 minutes.
Remove rice from heat and add pandan leaves. Transfer to a rice cooker. Pour in chicken stock. Cook rice according to manufacturer's instructions until tender. Fluff lightly with a rice paddle.
Combine 1 cup chopped ginger, 1/2 cup chopped garlic, chile peppers, 6 tablespoons sugar, dark soy sauce, soy sauce, lime juice, vinegar, soybean paste, cilantro, chicken bouillon granules, and 1 teaspoon salt in a blender; blend into a smooth sauce.
Pour sauce into a pot over medium heat. Simmer for 5 minutes.
Slice chicken and serve over rice, with sauce alongside.