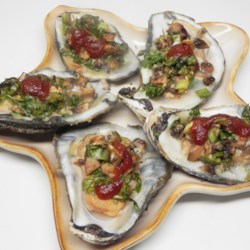 Open-Faced Oysters
"Perfect for date night. Serve with angel hair pasta and some roasted broccoli or kale for an elegant touch. Garnish with additional lime juice, hot sauce, or browned butter for extra decadent flavor."
Ingredients
1 (8 ounce) package fresh mushrooms, finely chopped
1 bunch fresh cilantro, chopped
1/4 cup olive oil
3 green onions, thinly sliced
1 lime, zested and juiced
3 cloves garlic, minced
20 freshly shucked oysters on the half shell
20 drops hot sauce, or to taste
Directions
Preheat oven to 350 degrees F (175 degrees C). Arrange oysters on a baking dish.
Measure 1 tablespoon lime juice into a bowl; reserve.
Combine mushrooms, cilantro, olive oil, green onions, lime juice, lime zest, and garlic in a bowl. Place a spoonful of the mixture over each oyster. Add a drop of hot sauce to each oyster. Drizzle reserved lime juice on top.
Bake in the preheated oven until warmed through, 10 to 15 minutes.