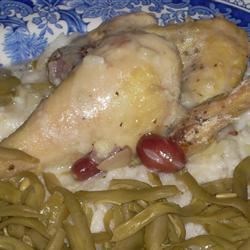 Chicken Veronique
"This easy chicken recipe is light and refreshing. Baked chicken is served with a sauce of chicken stock, lemon juice, marmalade, and grapes."
Ingredients
1 tablespoon olive oil
1 tablespoon butter, melted
1/4 cup all-purpose flour
1/2 teaspoon salt
2 1/2 pounds chicken, cut into pieces
1/2 cup orange marmalade
1 cup chicken stock
1 tablespoon cornstarch
3 tablespoons lemon juice
1/2 cup green seedless grapes
lemon, sliced
Italian parsley, chopped
Directions
Preheat oven to 375 degrees F (190 degrees C). Pour olive oil and butter into a 9×13-inch baking dish. With a spatula, spread oil and butter to cover the bottom of the baking dish.
Place the flour, salt, and chicken pieces into a large resealable plastic bag, and shake to coat lightly. Arrange chicken pieces skin-side down in a single layer in the baking dish.
Bake in preheated oven for 20 minutes. Turn chicken pieces and bake 10 minutes. Brush chicken with 1/2 marmalade, and bake until the chicken is golden brown and fork tender, about 10 to 15 minutes. Remove chicken to a serving platter, and keep warm.
Reserve 2 tablespoons of drippings to a saucepan, and place over medium-high heat. Stir in chicken stock. In a small bowl, mix together cornstarch and lemon juice; stir into stock mixture. Bring to a boil, and cook until sauce thickens, 3 to 4 minutes. Stir in remaining marmalade. Stir in grapes, and cook until heated through. Serve sauce over chicken, and garnish with lemon slices and parsley.