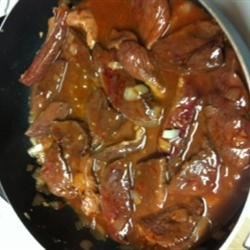 Canada Goose in Sweet Chili Sauce
"Wild Canada goose breast with cooked onions and garlic in a sweet chili sauce."
Ingredients
1/4 cup olive oil
1 small sweet onion, diced
2 teaspoons minced garlic
1 (8 ounce) skinless, boneless goose breast half, cut into 1/8-inch slices
salt and ground pepper to taste
1/4 cup sweet Thai chili sauce
Directions
Heat olive oil in a skillet over medium heat. Cook and stir onion and garlic in hot oil until fragrant, about 2 minutes.
Season goose with salt and pepper; add to the hot oil. Cook goose breast slices in hot oil for 2 minutes, flip, and continue cooking until evenly browned, about 2 minutes more.
Pour chili sauce over the goose; reduce heat to medium-low and cook at a simmer until the chili sauce thickens, about 3 minutes.