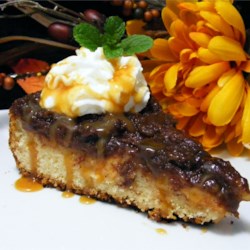 Ukrainian Apple Cake (Yabluchnyk)
"Here is a delicious cake which is easy to prepare. You can also use this pastry base with pitted cherries, plums, or sliced peaches."
Ingredients
1 1/2 cups all-purpose flour
1/4 cup white sugar
1/4 teaspoon salt
2 teaspoons baking powder
1/2 cup butter
1 egg, beaten
1/3 cup cream
4 large apple – peeled, cored and thinly sliced
Struesel Topping
2 tablespoons cold butter
1/2 cup brown sugar
2 tablespoons flour
2 teaspoons ground cinnamon
Directions
Preheat oven to 375 degrees F (190 degrees C). Lightly butter an 8 inch square baking dish.
Sift together 1 1/2 cups of flour, sugar, salt, and baking powder. Cut in 1/2 cup of butter until the mixture is crumbly. Stir together the egg with the cream and gently mix into the flour until a soft dough has formed. Press into prepared baking dish. Layer the apples into the dish overlapping, in neat rows. Prepare streusel by mixing the brown sugar, 2 tablespoons flour, and cinnamon together in a small bowl. Cut in 2 tablespoons butter until the mixture is crumbly. Sprinkle over apples.
Bake in preheated oven until apples have softened, and topping has browned, about 25 minutes.