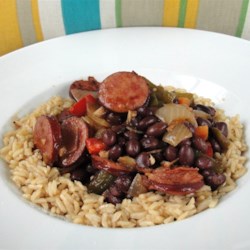 Pacific Cuban Black Beans and Rice
"I am not claiming this to be an authentic Cuban dish, rather my version of it. I hope that you enjoy. Garnish with chopped green onions, chopped cilantro, lime wedges, and sour cream."
Ingredients
4 cups water
2 cups rice
3 tablespoons olive oil
1 onion, chopped
1 bell pepper, chopped
2 carrots, peeled and chopped
2 ribs celery, chopped
1 tablespoon minced garlic
2 (15 ounce) cans black beans
2 smoked Spanish chorizo sausage links, coarsely chopped
1 cup chicken stock
1 (8 ounce) jar picante sauce
2 bay leaves
2 teaspoons smoked paprika
1 teaspoon red wine vinegar, or more to taste
1 teaspoon ground cumin
1 teaspoon white sugar
1 teaspoon salt, or to taste
1/2 teaspoon ground black pepper, or to taste
1 pinch red pepper flakes (optional)
Directions
Bring water and rice to a boil in a saucepan. Reduce heat to medium-low, cover, and simmer until the rice is tender and liquid has been absorbed, 20 to 25 minutes.
Heat olive oil in a stockpot over medium-high heat; saute onion, bell pepper, carrots, celery, and garlic in hot oil until tender, about 5 minutes.
Mix black beans with liquid, chorizo, chicken stock, picante sauce, bay leaves, paprika, red wine vinegar, cumin, sugar, salt, black pepper, and red pepper flakes together in the pot with the onion mixture; bring to a boil, reduce heat to medium-low, place a cover on the pot, and simmer until the beans have softened, about 30 minutes.
Remove lid from pot and continue cooking until the mixture reaches your desired consistency, at least 20 minutes more. Remove bay leaves and adjust seasoning to your preferences. Serve over rice.