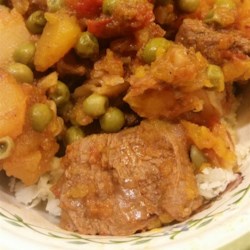 Goat and Butternut Squash Stew
"This is a tasty, spicy dish for a cold fall or winter evening and can be a good way to introduce goat to people who think they don't like goat. If you're not a fan of a long saute process, it can also be prepared in a slow cooker. Serve over rice."
Ingredients
1 teaspoon ground cumin
1 teaspoon ground coriander
1 teaspoon ground ginger
1/2 teaspoon sweet paprika
1/2 teaspoon smoked sweet paprika
1/2 teaspoon smoked hot paprika
1/2 teaspoon ancho chile powder
1 (3 pound) bone-in goat shank
1/4 teaspoon salt, or more to taste
1/4 teaspoon ground black pepper, or to taste
2 tablespoons coconut oil
1 onion, chopped
1 (1 pound) butternut squash, peeled and cut into 1/2-inch cubes
4 cloves garlic, minced
1 (14 ounce) can diced tomatoes
1 1/2 cups water
1 cinnamon stick
1 pinch saffron
Directions
Mix cumin, coriander, ginger, sweet paprika, smoked sweet paprika, smoked hot paprika, and chile powder together in a bowl.
Rub goat shank with about 1/4 teaspoon salt and 1/4 teaspoon pepper.
Heat coconut oil in a large Dutch oven over medium-high heat until melted and shimmering. Cook goat shank in hot oil until browned as completely as you can get it, 2 to 3 minutes per side. Remove shank to a bowl, reserving oil in the skillet.
Reduce heat under the skillet to low. Cook and stir onion in the retained oil until soft, 7 to 10 minutes. Add butternut squash and garlic; cook and stir until the garlic is fragrant, about 1 minute. Sprinkle the cumin mixture over the squash mixture; cook and stir 1 minute more.
Stir tomatoes, water, cinnamon stick, and saffron into the squash mixture; return goat shank to the Dutch oven, bring the liquid to a simmer, and cook until the goat meat is tender and falling from the bone, 90 minutes to 2 hours.
Remove shank from Dutch oven to a cutting board. Strip meat from the bone and cut into bite-size pieces. Discard bone. Stir meat into the squash mixture, season with salt and pepper, and cook until the meat is reheated, about 5 minutes.