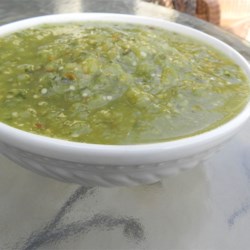 Tomatillo Salsa Verde
Recipe By:
Kimberly Binning
"This authentic Mexican salsa verde has a fabulous flavor. Use it on chicken enchiladas or as a condiment for any dish that needs a little extra zip!"
Ingredients
1 pound tomatillos, husked
1/2 cup finely chopped onion
1 teaspoon minced garlic
1 serrano chile peppers, minced
2 tablespoons chopped cilantro
1 tablespoon chopped fresh oregano
1/2 teaspoon ground cumin
1 1/2 teaspoons salt, or to taste
2 cups water
Directions
Place tomatillos, onion, garlic, and chile pepper into a saucepan. Season with cilantro, oregano, cumin, and salt; pour in water. Bring to a boil over high heat, then reduce heat to medium-low, and simmer until the tomatillos are soft, 10 to 15 minutes.
Using a blender, carefully puree the tomatillos and water in batches until smooth.