Coquilles Saint Jacques
Prep

45

min

Total

1

hr

5

min

Servings

6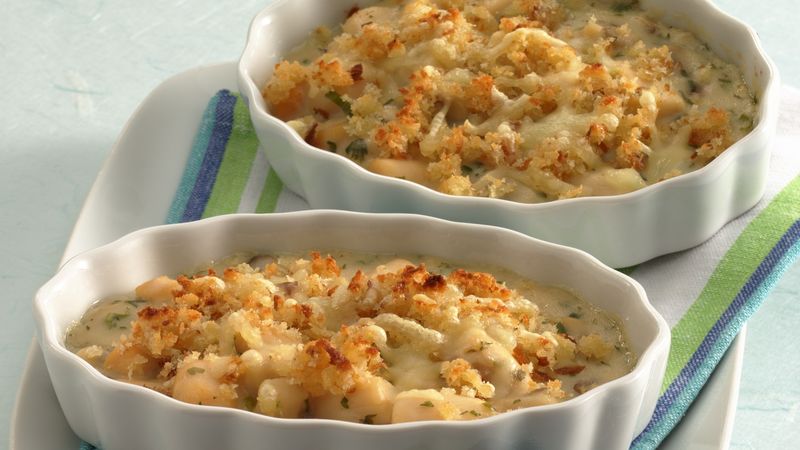 Ingredients
1 1/2

lb bay scallops*
1

cup dry white wine, nonalcoholic white wine or chicken broth
1/4

cup chopped fresh parsley
1/2

teaspoon salt
2

tablespoons butter or margarine
6

oz mushrooms, sliced (2 cups)
2

shallots or green onions, chopped (2 to 3 tablespoons)
3

tablespoons butter or margarine
3

tablespoons Gold Medal™ all-purpose flour
1/2

cup half-and-half
1/2

cup shredded Swiss cheese (2 oz)
1

cup soft bread crumbs (about 1 1/2 slices bread)
2

tablespoons butter or margarine, melted
Steps
1

Lightly grease six 4-inch baking shells or ceramic ramekins** with butter. Place in 15x10x1-inch pan.

2

In 3-quart saucepan, place scallops, wine, parsley and salt. Add just enough water to cover scallops. Heat to boiling; reduce heat to low. Simmer uncovered about 6 minutes or until scallops are white.

3

Remove scallops with slotted spoon; reserve liquid. Heat reserved liquid to boiling. Boil until reduced to 1 cup. Strain and reserve.

4

In same saucepan, melt 2 tablespoons butter over medium heat. Cook mushrooms and shallots in butter 5 to 6 minutes, stirring occasionally, until mushrooms are tender. Remove from saucepan.

5

In same saucepan, melt 3 tablespoons butter over medium heat. Stir in flour. Cook, stirring constantly, until smooth and bubbly; remove from heat. Gradually stir in reserved liquid. Heat to boiling, stirring constantly; cook and stir 1 minute. Stir in half-and-half, scallops, mushroom mixture and 1/4 cup of the cheese; heat through.

6

In small bowl, toss bread crumbs and 2 tablespoons melted butter. Divide scallop mixture among baking shells. Sprinkle with remaining 1/4 cup cheese and the bread crumbs.

7

Set oven control to broil. Broil baking shells with tops 5 inches from heat 3 to 5 minutes or until crumbs are toasted.
Notes
Tips
Nutritional Information
Serving Size: 1 Serving
Calories

340

Calories from Fat

180
Total Fat

20g
31%

Saturated Fat

10g
51%

Trans Fat

1g
 

Cholesterol

80mg
27%

Sodium

630mg
26%

Potassium

520mg
15%

Total Carbohydrate

19g
6%

Dietary Fiber

1g
4%

Sugars

3g
 

Protein

20g
 
% Daily Value*:
Vitamin A

20%

Vitamin C

4%

Calcium

25%

Iron

20%
Exchanges:
1 Starch; 0 Fruit; 0 Other Carbohydrate; 0 Skim Milk; 0 Low-Fat Milk; 0 Milk; 1 Vegetable; 0 Very Lean Meat; 2 Lean Meat; 0 High-Fat Meat; 3 Fat;
*Percent Daily Values are based on a 2,000 calorie diet